The easiest way to plan, visualize and document your everyday molecular cloning procedures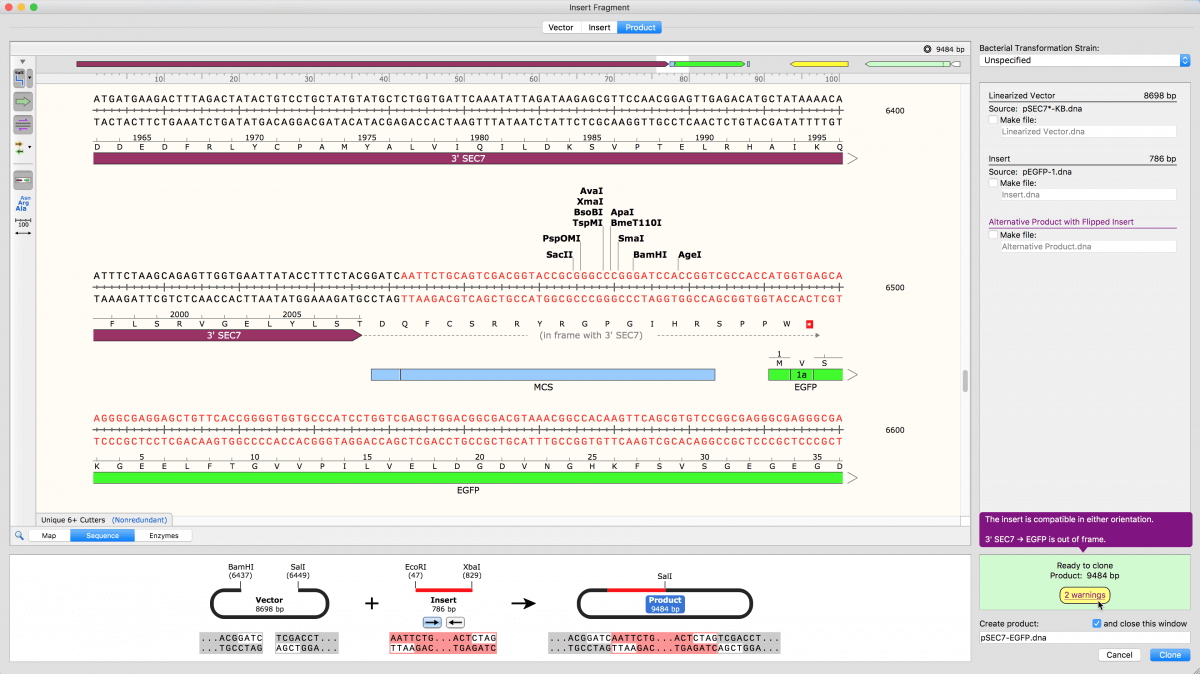 Improve accuracy while moving faster, so you save time and money.
Elegant, information-rich windows for simulating common cloning and PCR methods
Clear visual schematics let you see exactly how your construct will be put together
SnapGene helps you identify and avoid common mis-steps by keeping track of details like DNA methylation and phosphorylation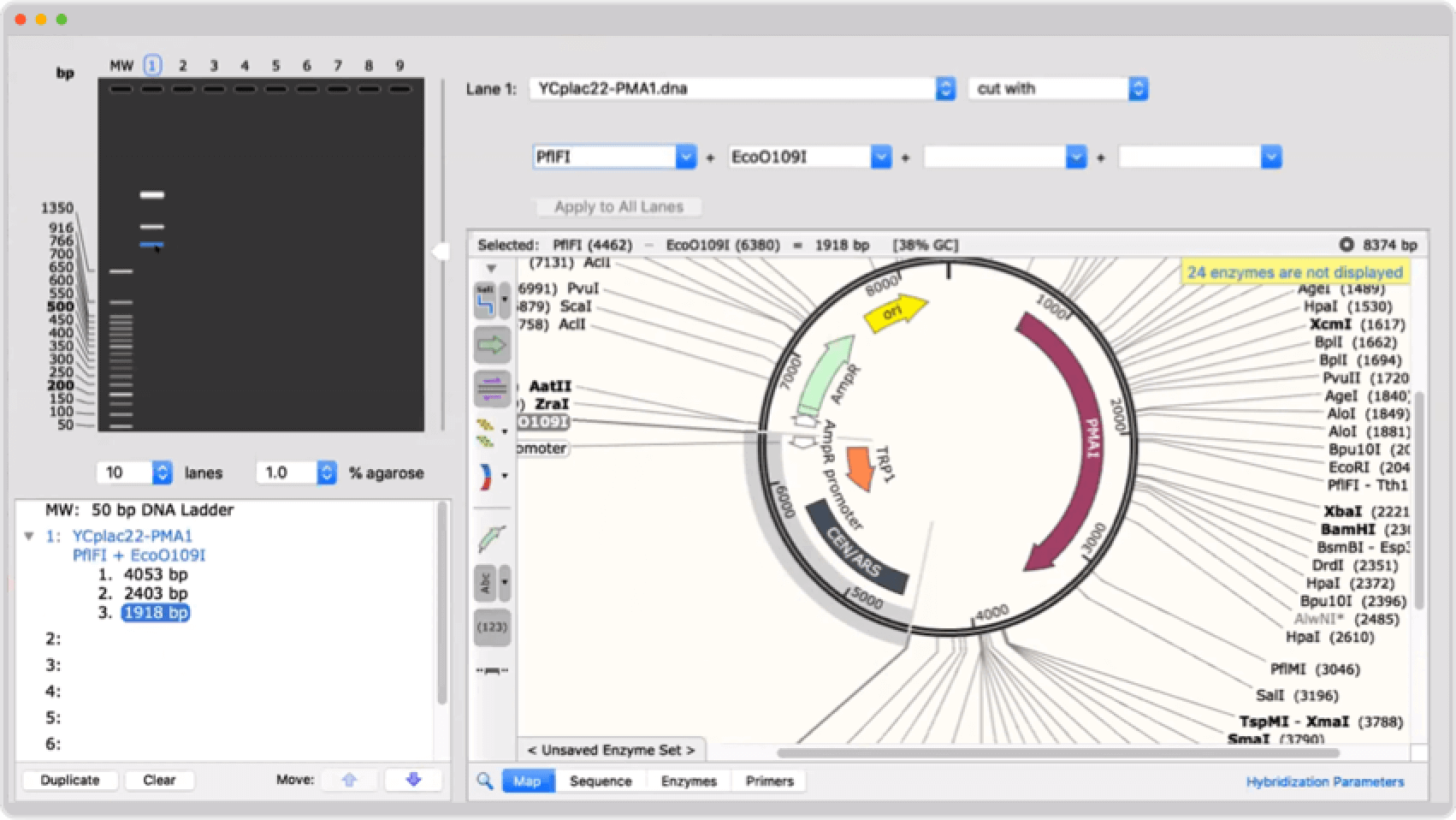 With unparalleled visibility and control, even novice cloners will quickly accomplish complex tasks.
Gain unparalleled visibility of your DNA or protein sequence
Create and browse richly annotated plasmid maps or scan large DNA sequences with thousands of annotated features
Confirm your cloning results with highly visual alignment of sequencing results to your simulated construct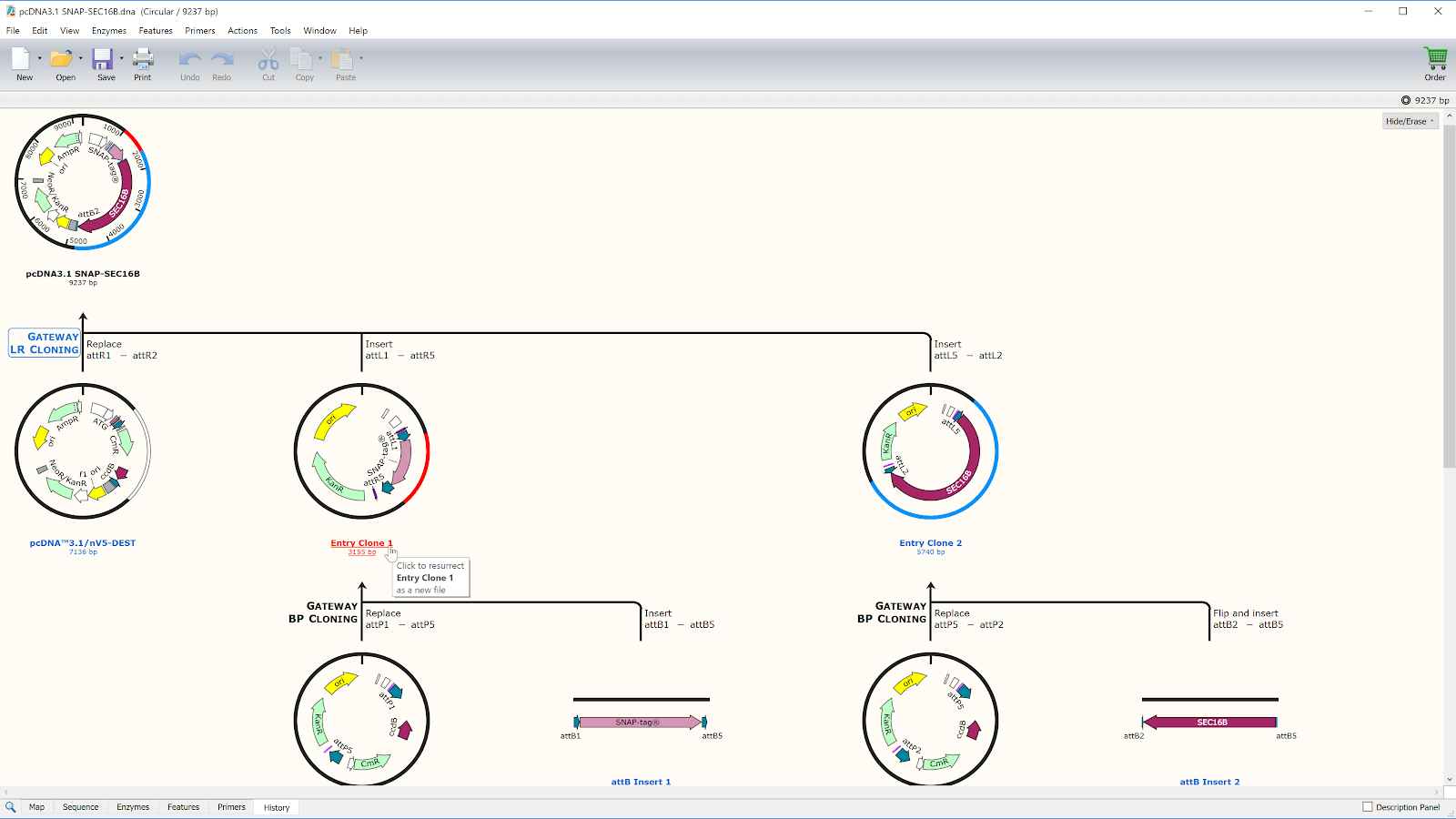 Automatic documentation of simulated procedures saves time and makes sharing and saving work easier, more efficient, and more effective.
Automatically generate a rich graphical history of every sequence edit and cloning procedure
Enhance collaboration and retain knowledge by sharing constructs complete with the historical details of how it was made
Experiment confidently with comprehensive "undo" capabilities that retrace your steps
Beyond the Basics of Molecular Cloning
SnapGene is the most popular cloning tool for a reason. It's fast, smart and extremely user-friendly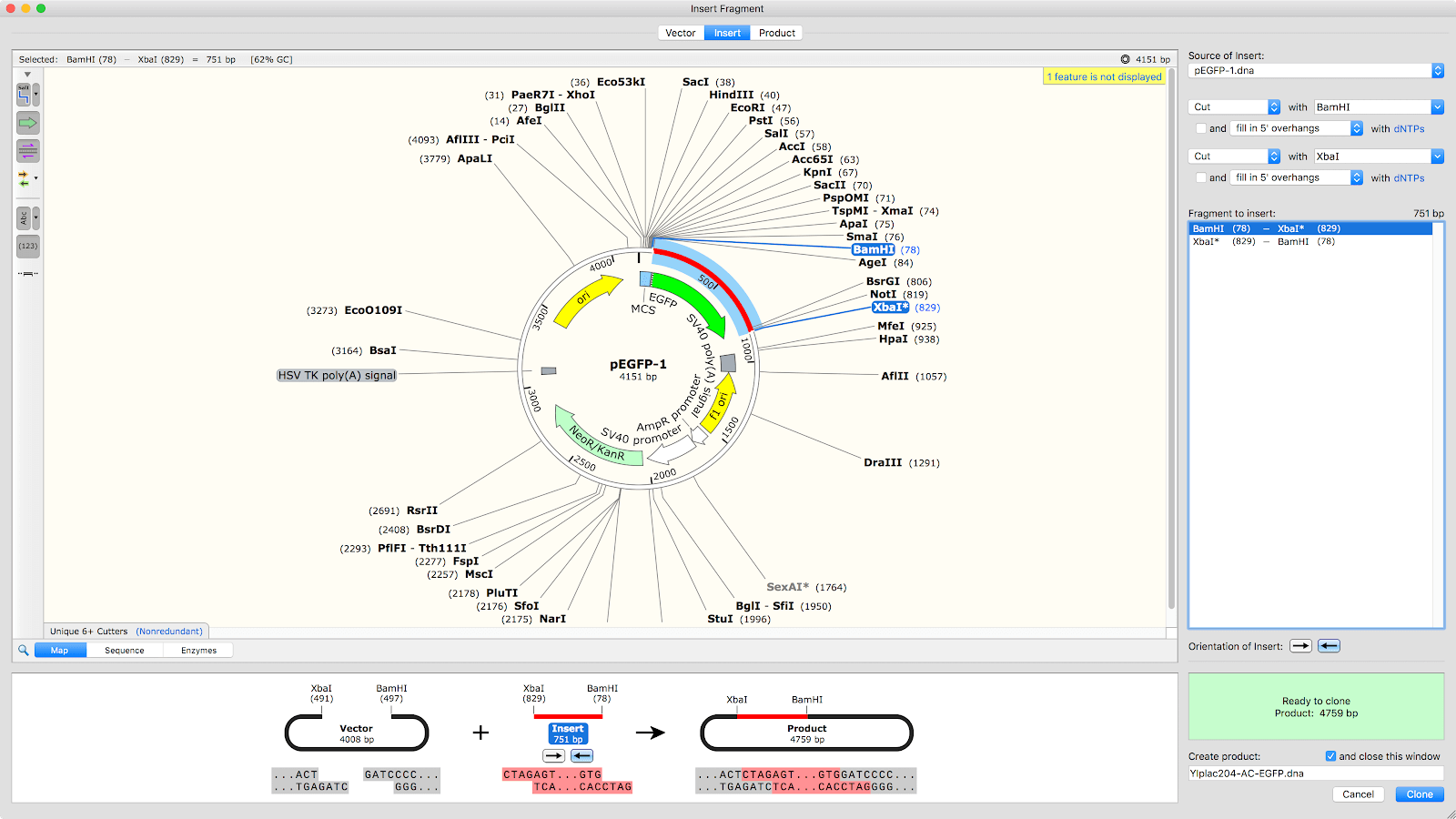 Intuitive technology identifies design flaws in cloning procedures so they can be corrected
Simulate standard PCR using your own primers, or allow SnapGene to design them automatically
Specialised cloning tools ensure fast accurate construct design for all major molecular cloning techniques
Verify your project design and prevent errors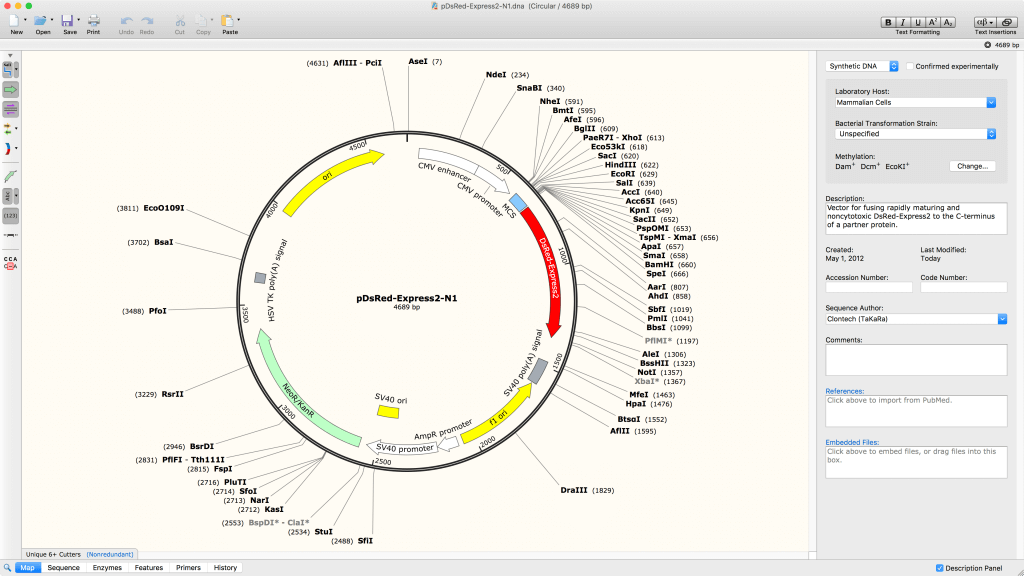 Automatically View Plasmid Features
Annotate features on your plasmids using SnapGene's curated feature database or your own custom features
Display enzyme sites, features, primers, ORFs, translations and more on plasmid maps or in detail on the sequence view
Customize your maps with flexible annotation and visualization controls
Check Your Sequences with Alignment Tools
Validate your sequenced constructs match your simulated construct using the powerful Align to Reference tool
Align sequences using trusted algorithms for pairwise and multiple alignments, including Clustal Omega, MAFFT, MUSCLE and T-Coffee
Assemble Sanger sequencing reads into complete contigs using CAP3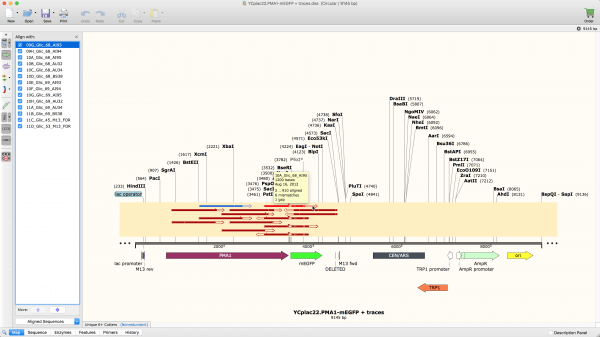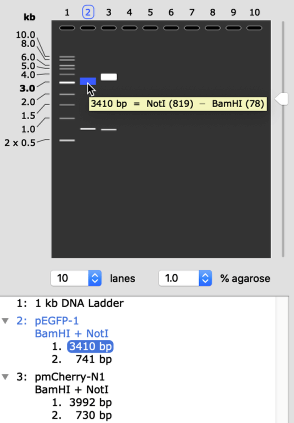 Realistic Agarose Gel Simulations
Visualise exactly what you will see in the lab with SnapGene's empirically based gel simulation algorithm
Flexible configuration of all gel elements, including number of lanes, % agarose, running time and a full set of MW markers
Record and identify your band of interest with detailed fragment information for each lane
UT Health Science Center, San Antonio
Configured for automatic documentation and easy data exchange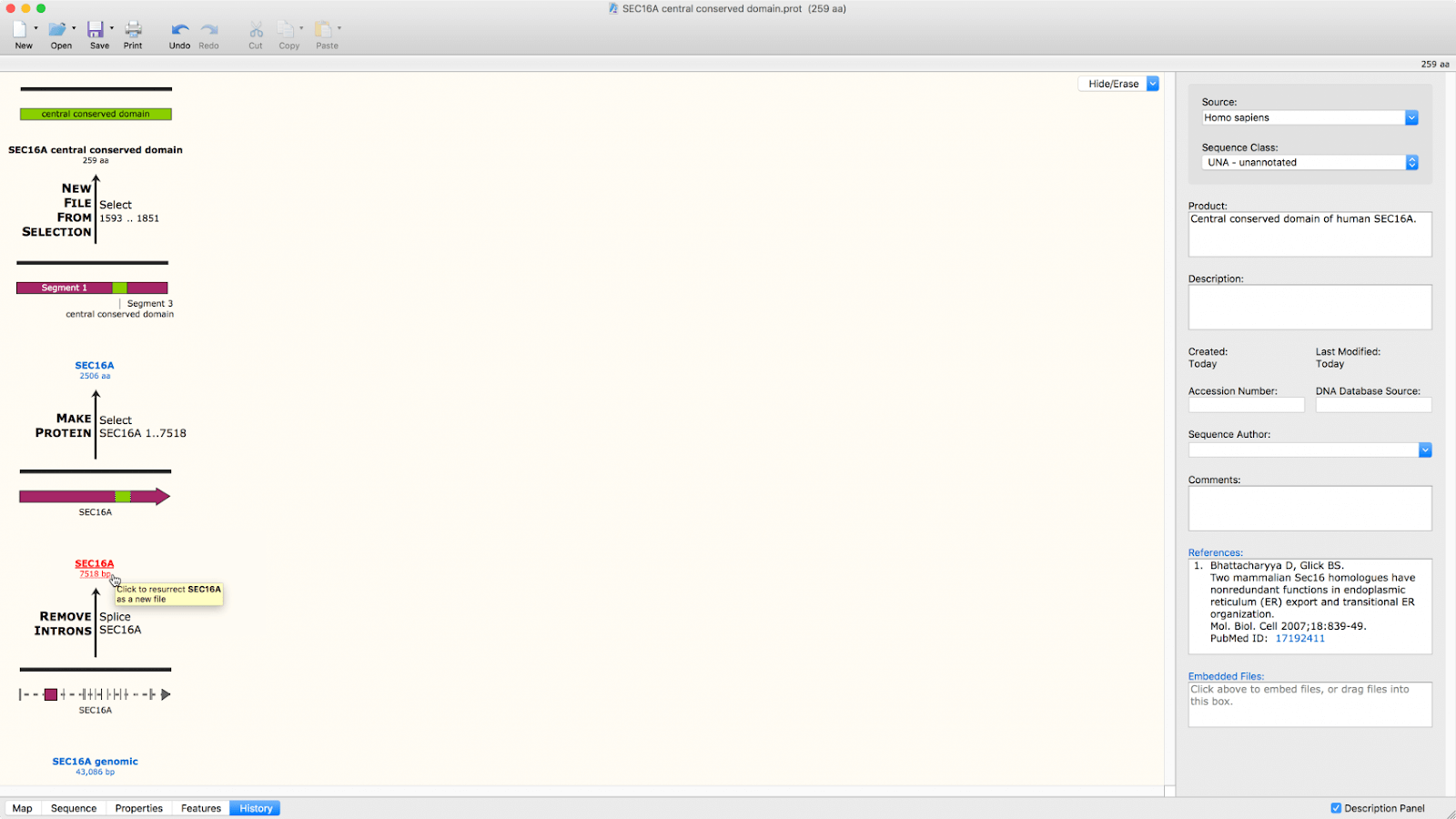 Automatically Create a Graphical History
Record experimental procedures and changes to documents visually
Show history colors in history, map and sequence views
Fully resurrectable sequence history embedded in the document
Convert and Share Data
Store, search, share and organize your sequences, files and maps
Work collaboratively with sequences in collections stored on sharable drives, servers or cloud services
Easily read and export sequences, annotations and other metadata from many common file formats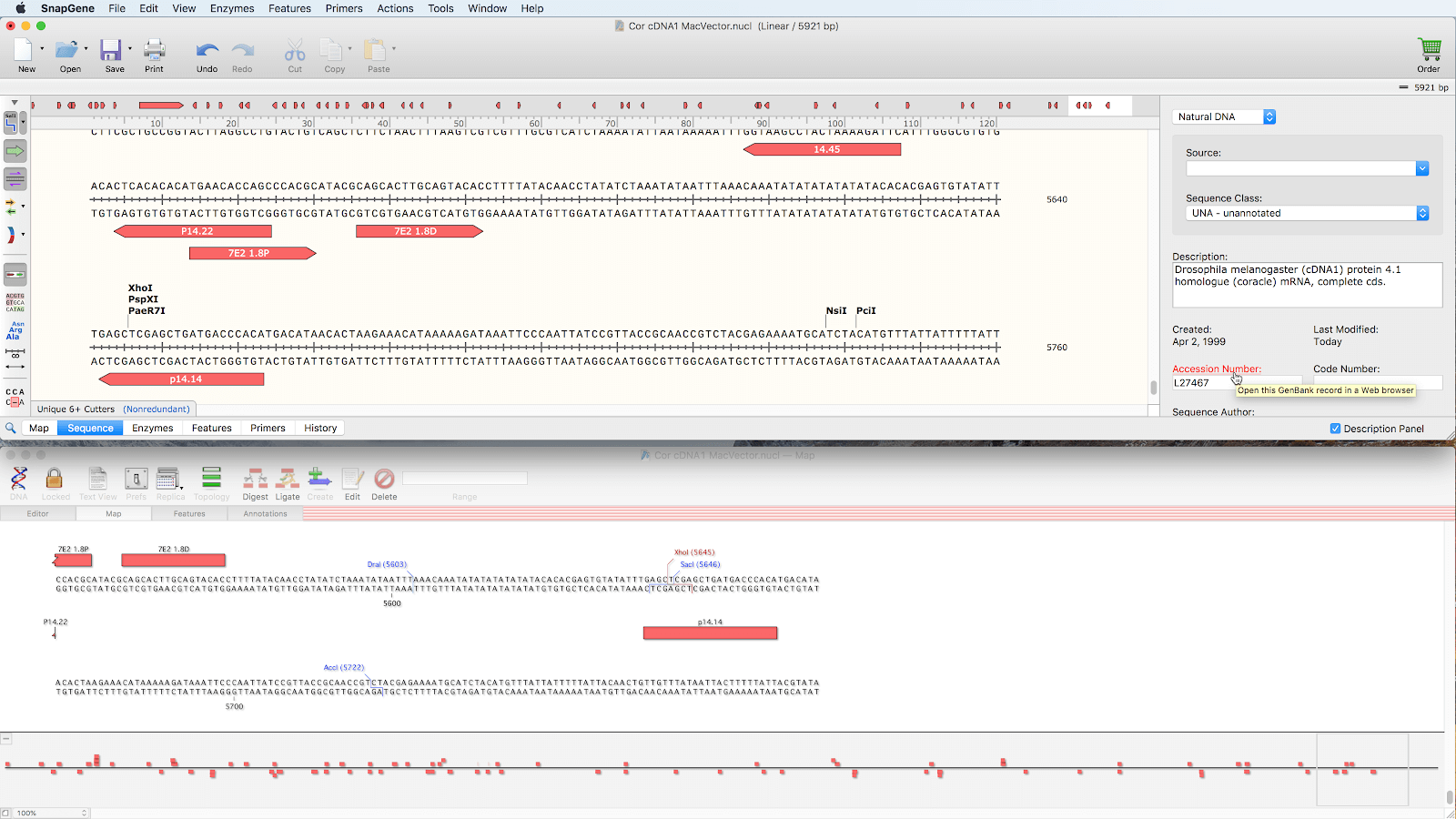 Fred Hutchinson Cancer Center
All Features
Explore a list of SnapGene's robust set of features designed to enhance your everyday
molecular cloning procedures
Molecular Cloning
Restriction Cloning
Gateway Cloning
Gibson Assembly
NEBuilder HiFi Assembly
In-Fusion Cloning
TA & GC Cloning
TOPO Cloning
Primers
Design primers
Anneal two oligos to form a double-stranded product
PCR and Mutagenesis
Simulate PCR
Overlap extension PCR
Primer-directed mutagenesis
Enzyme Sets
Predefined enzyme sets - by company or cutter
Create custom enzyme sets
View detailed enzyme information
Rich support for methylation sensitivity and associated error prevention
Convert File Formats
Alignment Formats
ApE
CLC Bio
Clone Manager
DNA Strider
DNADynamo
DNASIS
DNAssist
DNASTAR Lasergene®
DS Gene
EMBL (ENA)
EnzymeX
GenBank / DDBJ
Gene Construction Kit®
Geneious
GeneTool
Genome Compiler
Jellyfish
MacVector
pDRAW32
Serial Cloner
Swiss-Prot
Vector NTI®
Visual Cloning
Agarose Gel Simulation
Simulate an agarose gel
Simulate a Restriction Digest
Simulate a PCR Amplification
Large collection of MW markers
Features / Annotations
Create and edit features
Automatic annotation of common features
Annotate novel features manually
Choose Alternative Codons
Sophisticated numbering of feature translations
Support for ribosomal slippage
Translations
View and edit translated features
Open reading frames (ORFs)
Whole-sequence translations
Check reading frames for gene fusions
Make Protein (from DNA)
Reverse Translate (from Protein)
Alignment
Align DNA sequences with a reference sequence
Verify cloning or mutagenesis
Align cDNA to a chromosome
Pairwise and multi sequence DNA and Protein alignment
Choice of alignment algorithms - Clustal Omega, MAFFT, MUSCLE, T-Coffee
Contig Assembly
Visualizing
See multiple views of a DNA sequence
Large sequence support - browse chromosome size sequences
Edit DNA and protein sequences
Color code sequences
History Tracking
Comprehensive "undo" capability
See a graphical history of a product
Use optional history colors to identify the most recent change to a sequence
Data Management
Import from common file formats including annotations and notes
Export to standard formats
Create and share Collections
Share data with SnapGene Viewer
Run batch operations
Search
Search for DNA or protein sequences
Search for enzymes, features or primers
General
Cross platform compatibility - Windows, macOS, Linux